Join Date: Sep 2008
Posts: 10
Mentioned: 0 Post(s)
Tagged: 0 Thread(s)
Quoted: 0 Post(s)
Finally got one...
---
Hello, I am new to the forum, but have been reading for some time now. I have waited for a GTO project for almost 20 years now, and as of sunday I finally made the purchase, well it's a 70 Lemans, but the price was right. Needs a ton of work but thats what I wanted, a frame off rebuild. I look forward to getting any and all ideas from the knowledge i've seen here.
Cheers !
Former Super Moderator
Join Date: Feb 2007
Location: South Central Wisconsin
Posts: 9,919
Mentioned: 0 Post(s)
Tagged: 0 Thread(s)
Quoted: 21 Post(s)
Awesome! Welcome to the forums!
Wouldn't mind finding one of those myself!
Post some pictures so we can see what your dealing with.
---

Restoration pictures
password is 'GTO'
Burn-out
videos.
Welcome aboard Man...Sounds like you got a long term project for sure...
Join Date: Sep 2008
Posts: 10
Mentioned: 0 Post(s)
Tagged: 0 Thread(s)
Quoted: 0 Post(s)
Well....like I said, it's a project car. It does need rear quarters, and a drivers side floor pan, but for $700.00 I'm not gonna complain too much. everything else, fenders,doors, frame, are in great shape. The big part is the engine, somebody put a very healthy chevy 355 in it....thats gotta go. I want to put the pontiac power plant in it. Not sure if I'm gonna do the clone thing or not. Once I figure out how to post a pic I will.
Welcome to the forum
---
-LSS Shifter
-Resonator Delete
-Flowmaster 44 Series Mufflers

1 of 475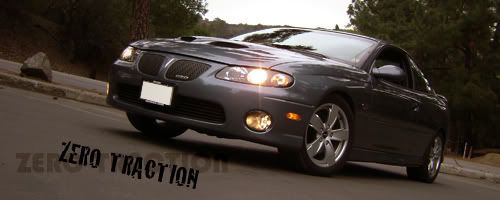 Join Date: Nov 2007
Location: Chicago,Il
Posts: 1,303
Mentioned: 0 Post(s)
Tagged: 0 Thread(s)
Quoted: 0 Post(s)
Welcome aboard.
Currently Active Users Viewing This Thread: 1

(0 members and 1 guests)