Join Date: Jun 2009
Location: Grand Blanc, MI
Posts: 11
Mentioned: 0 Post(s)
Tagged: 0 Thread(s)
Quoted: 0 Post(s)
Geezer's Goat
---
Well, guess I'm not a geezer yet, but I'm working on it. I was a year from HS graduation when the 68 was new. Couldn't afford it then, so I'm just now catching up, only 40 years late. Well, I did buy an 06 SRM 6 spd w 18's that I drove around while the convert sat in the garage stuck in 1st/Rev. At least the kids got through college before I started spending their money
Car's is numbers matching, PHS. Original block, intake manifold, tranny, interior and has had a frame off, very good paint (though not the original Mayfair Maize), very poor detail and finish work, but all little stuff for the most part. Hurst 4 spd linkage was toast, suspension was original and was also needing attention. Got an Airlift bag system and KYB Gas-A-Just shocks thanks to the suggestions from the forum. These improvements have been remarkable in drivability. Front suspension is next in line. Then the dash. Then Cragars. Then Headers. Or maybe headers first....
Anyway, hopefully here are some pix. I'm pretty much a dufus on this stuff, but I'm learning. The blue 04 GTO is my son's. He's the one that started all this.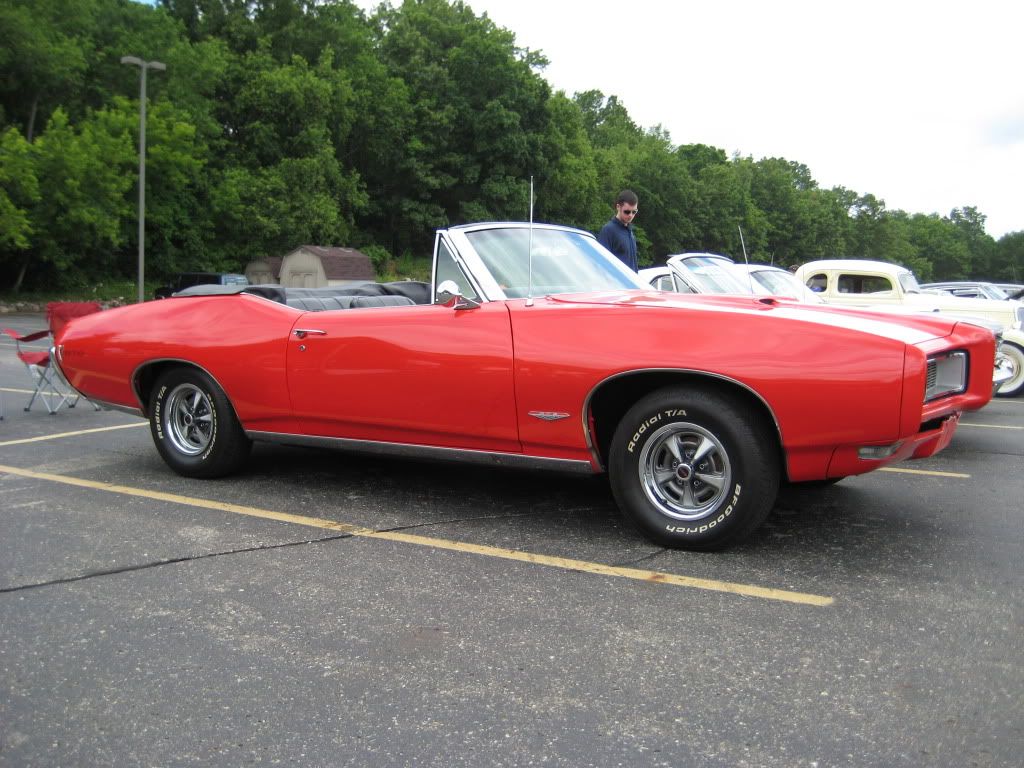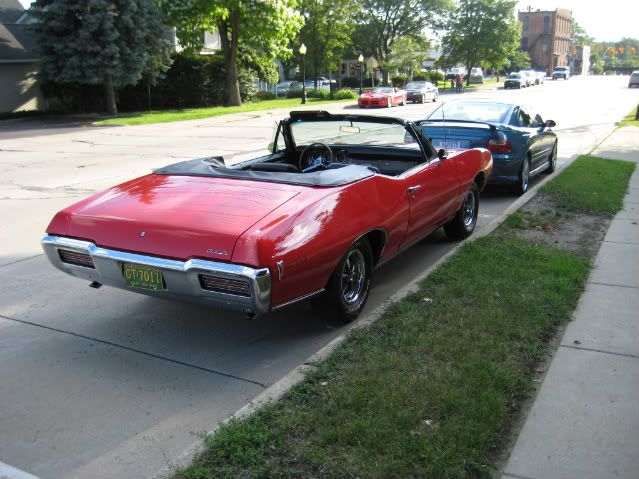 Nice
Former Moderator
Join Date: Sep 2005
Location: Northern Wisconsin
Posts: 3,523
Mentioned: 0 Post(s)
Tagged: 1 Thread(s)
Quoted: 1 Post(s)
Very nice!
Former Super Moderator
Join Date: Feb 2007
Location: South Central Wisconsin
Posts: 9,919
Mentioned: 0 Post(s)
Tagged: 0 Thread(s)
Quoted: 21 Post(s)
Join Date: Jun 2009
Location: Grand Blanc, MI
Posts: 11
Mentioned: 0 Post(s)
Tagged: 0 Thread(s)
Quoted: 0 Post(s)
Thanks for the kind words guys. This car definitely draws more attention that the LS2 GTO. And I figure it isn't my shiney head they're looking at
And Rukee, the pix were for you especially. Otherwise I'd get "this thread is worthless w/out pictures!"
Currently Active Users Viewing This Thread: 1

(0 members and 1 guests)