Join Date: Oct 2011
Location: Colleyville, TX
Posts: 28
Mentioned: 0 Post(s)
Tagged: 0 Thread(s)
Quoted: 0 Post(s)
New member -Need help with a 66 GTO.
---
Hello, I a new to the forum and have always loved the looks of the GTO. I spend a lot of time with friends working on early model cars and trucks but I'm new to the world of GTO's.
I own a couple of early model corvettes, and hang out on the corvette forum. My friends give me a hard time because at most car shows I spend most of my time looking at the GTO's. Well I finally pulled the trigger and was high bidder on a 66 convertible. It looks like the GTO is being sold by a dealer that is probably flipping it, so info will be hard to get. He is representing it as a numbers matching car.
I'm not to worried about what to look for as far as rust goes on the body, the car seems to be in pretty good shape, and I can repair whatever I need to.
The drive trane I know nothing about, I need help in identifying matching numbers.
I want to confirm where to look for the block and tranny identification. I am doing as much research as I can but I don't have a lot of time, and if this forum is like the corvette forum I'm sure there is ton of knowledge here.
I will print out VIN Decoding information to take with me.
A few other questions, The GTO has power windows, I am assuming it was an option in 66?
Any suggestions on what else to look for would be appreciated.
I know everyone wants pictures so here is one that came with the add, maybe someone has seen this GTO.
Thanks for your help.
Tim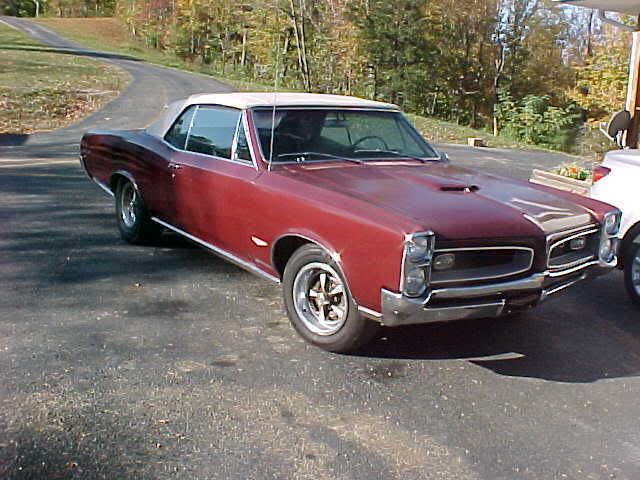 Join Date: Oct 2007
Location: Long Island NY
Posts: 4,702
Mentioned: 0 Post(s)
Tagged: 0 Thread(s)
Quoted: 1 Post(s)
Welcome! Yes the 66 GTO was available with power windows. If you have the VIN you should consider contacting Pontiac Historical Services. They will provide you with a packet detailing what you car was ordered and delivered with. The car LOOKS nice! Congrats, Eric
Super Moderator
Join Date: Aug 2008
Location: Springtown, TX
Posts: 5,737
Mentioned: 0 Post(s)
Tagged: 0 Thread(s)
Quoted: 122 Post(s)
That's a nice looking car, Tim. At least in the photo
Your profile says you're in Colleyville. I live in Garland, work in Irving, and drive the GBT every day between the two. I second the recommendation on using the vin to get a copy of the records from PHS. They're the best source for information to validate all the options and equipment this car was "born" with. If you're buying as an investment, or care a lot about resale value for whatever reason, then that's important.
I've got a 69 hardtop that I've been working on "forever" that is nearing the finish line on a frame-off restoration (well, "restification" - it's not 100% stock
) project. I've had the car since my college days and, though there are certainly folks out the that know more about them than I do, I've put in a "right smart" amount of time over the years learning the inside and out of these cars. Every nut, bolt - every sqaure inch of paint and body work on my 69 I've done with my own two beat-up old hands with very few exceptions. Kim Barr Racing Engines in Garland did the machine work on the block and heads, Central Virginal Machine Service balanced the rotating assembly, custom dished the pistons and consulted on other aspects/parts of the engine build including supplying the lions share of the parts, Hackler Transmission in Farmers Branch rebuilt and beefed up my TH400 (and also built a custom 10" converter), Ray Jones installed my windshield and rear glass. Everything else has been yours truly.
Anyhoo--- welcome to the forum and congratulations on "upgrading" to Pontiac. Maybe we can meet up at an event or something sometime.
---
BearGFR
Springtown, TEXAS
64-67 Expert
Join Date: Feb 2008
Location: Fresno, California
Posts: 8,491
Mentioned: 0 Post(s)
Tagged: 0 Thread(s)
Quoted: 103 Post(s)
OldToys, that car of yours was on my ebay watchlist, and I just got off of there learning that "my" car had been sold!!! Seriously, If that car was local to me, I may have jumped on it....it was that honest of a car. I have a '67 convertible, but have a soft spot for burgundy '66's with a 4 speed. Here's my take on the car: you got a really nice, solid, unmolested car for a very reasonable price. If I had your car, I would clean it up, change out the fluids with the right stuff (and that means engine oil with ZDDP in it!) and enjoy it. It looked like it needed the trunk stainless trim replaced and maybe door panels...but man, what a neat car. The autcion had the PHS posted for your car, and it is a 4bbl 4speed, burgundy/white top/3.55 posi car. With power windows, which are very desirable, at least in a ragtop! This is exactly how GTO's used to look when I was buying them 30 years ago for a few hundred bucks as used cars: all original, slightly tired paint, but solid and drivable. These cars are not easy to find in 2011. Great score.
Join Date: Jul 2009
Location: Phoenix, AZ
Posts: 362
Mentioned: 0 Post(s)
Tagged: 0 Thread(s)
Quoted: 0 Post(s)
Welcome OldToys to the forum and that is a great looking Goat, I am sure you will enjoy it very much.
---
JOSHUA
1970 GTO 455HO Cardinal Red
Join Date: Oct 2011
Location: Colleyville, TX
Posts: 28
Mentioned: 0 Post(s)
Tagged: 0 Thread(s)
Quoted: 0 Post(s)
A
---
Thanks for the reply's guys, so far all good news. I am in my truck with trailer in tow heading that way..
I will post a picture when I pick it up.
Thanks
Tim
Currently Active Users Viewing This Thread: 1

(0 members and 1 guests)
Similar Threads
Thread
Thread Starter
Forum
Replies
Last Post
Possible member?

1FastMonteCarloLT

Member Introductions

5

04-02-2010

02:44 PM

New Member

talspa

Member Introductions

9

08-16-2007

08:43 PM

new member, no GTO....yet

ColdsnowUSMC

Member Introductions

3

07-10-2007

03:12 PM

New member

JadedGTO

Member Introductions

4

06-27-2007

02:30 PM

New member

nickt

Member Introductions

3

06-09-2007

12:31 PM