Join Date: Jun 2006
Location: Daphne, Alabama
Posts: 1,451
Mentioned: 0 Post(s)
Tagged: 0 Thread(s)
Quoted: 0 Post(s)
impala
---
I beat the pants off a new body style Impala SS with the 5.3 litre V8 in it this morning on the way to work. I know it's nothing worth bragging about, but a kill is a kill and he's the one that took a stab at me. I let him get ahead of me a bit before I got serious and showed him my tail lights. I don't like the look of the new body style (or the new (now discontinued) monte carlo's body style). I think the prior body style of the monte carlo looked better, and I LOVED the impala of the 90's with the LT1 in it. Just my $.02.
Good kill.
I actually do like the new Impala's, and never was a big fan of the older bodies. These days I picture "crime" when I see the older Impalas.
---
-LSS Shifter
-Resonator Delete
-Flowmaster 44 Series Mufflers

1 of 475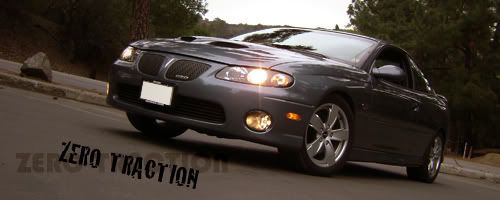 Join Date: Nov 2007
Location: Chicago,Il
Posts: 1,303
Mentioned: 0 Post(s)
Tagged: 0 Thread(s)
Quoted: 0 Post(s)
Nice kill. At one point i was planning on trading the GTO for a new body style Impala due to insurance problems. Glad everything worked out though.
Join Date: Apr 2005
Location: Eustis Fl.
Posts: 3,445
Mentioned: 0 Post(s)
Tagged: 0 Thread(s)
Quoted: 0 Post(s)
Good Kill

I like the new body style and the old body style.

The new car stock is a mid 14's quarter mile car. A good run for a 99-04 Mustang GT or an early 350Z. Great competition for a Hemi Charger or 300C.

I've seen the new 5.3 Monte's and Impy's break into the high 13's at 100-101 mph with just an intake and a tune.

The 3.9l V6 is the sleeper though. They will run a 14.8-14.9 in the high 90's stock.
Currently Active Users Viewing This Thread: 1

(0 members and 1 guests)