Join Date: Jun 2006
Location: Daphne, Alabama
Posts: 1,451
Mentioned: 0 Post(s)
Tagged: 0 Thread(s)
Quoted: 0 Post(s)
mustang cobra
---
I got to run a prior body style svt mustang cobra yesterday coming home from work. It was a convertible, not sure how much weight that added to the car. Anyways, we were clipping along at 80 going across the bay and I had already downshifted into 3rd in case he wanted to play (I got the A4) and sure enough, I eased up beside him and the more I crept passed him the faster he went, then took off.

He got about a car on me but no more, my front bumper was almost even with his back bumper inch for inch until we got back into traffic. I pulled back up beside him again and smiled and gave him a thumbs up, which he returned, was a pretty cool experience.

I've seen videos of those svt mustang cobras beating up on gtos on youtube, so I had already mentally accepted the defeat in my mind before I even had a go at him. I was happy to see that he wasn't any stronger than me from an 80 mph roll on. From a dead stop at a stoplight, I'd imagine he'd have the advantage from the supercharger hitting it's powerband before an N.A. engine would. Anyways, just thought I would share.
Join Date: Nov 2007
Location: BREWSTER, NY
Posts: 1,448
Mentioned: 0 Post(s)
Tagged: 0 Thread(s)
Quoted: 0 Post(s)
I would consider that a good race dusty!
Wow, Ive seen the races between the tow and they are not too big of a kill, but the 03-04 cobra will usuallly win. Its almost a drivers race but not really, Looks like you know how to control your A4!! nice job keeping up!
---
-LSS Shifter
-Resonator Delete
-Flowmaster 44 Series Mufflers

1 of 475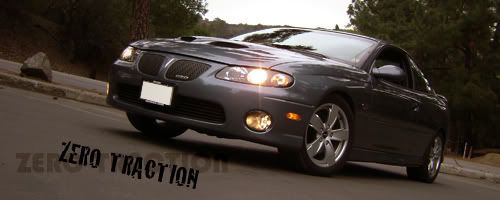 Join Date: Feb 2007
Location: San Jose area, CA
Posts: 377
Mentioned: 0 Post(s)
Tagged: 0 Thread(s)
Quoted: 0 Post(s)
Nice run, obviously not pullied, but nice nonetheless.
---
'07 Audi A4 2.0T Quattro "commuter"
'09 G37 Coupe Journey
'11 HD Street Glide 103
"The Andy Rooney of Cars"
Examiner.com
"My automotive consultant." - Wayland Joe, 2-time SCCA Runoff Champion, exotic car owner
Currently Active Users Viewing This Thread: 1

(0 members and 1 guests)