Join Date: Jan 2006
Location: Pennsylvania
Posts: 67
Mentioned: 0 Post(s)
Tagged: 0 Thread(s)
Quoted: 0 Post(s)
Ran the goat on weds night
---
Well apparently it was a big mistake to try to run the car with all season street tires! My best run of the night was done starting in 2nd gear(no joke), I ran a
[email protected]
with a horrible 2.2 60ft. Can't wait to see what the car can do with a set of drag radials! The other runs were
[email protected]
, the car absolutely will not hook in 1st or 2nd gear. I have been drag racing for many years and never had this kind of problem. What setups do you guys reccomend for getting a better launch??
What are your mods?
---
-LSS Shifter
-Resonator Delete
-Flowmaster 44 Series Mufflers

1 of 475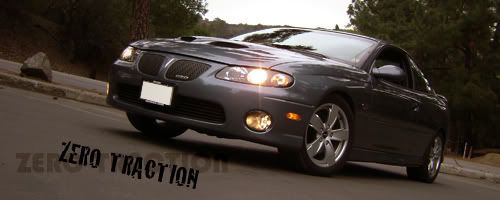 Join Date: Jan 2006
Location: Pennsylvania
Posts: 67
Mentioned: 0 Post(s)
Tagged: 0 Thread(s)
Quoted: 0 Post(s)
Mods are Magnacharger running 8.5lbs, long tube headers w/o cats, bassani cat-back, 160 t-stat, custom air intake located in drivers fender well behind fog light, spec stage 3+ clutch, and dynotuned making 532whp, 568wtq. I need to do suspension work now. I would like to get some input on what works best with GTO's for drag racing.
Join Date: Mar 2009
Location: Snohomish, WA
Posts: 60
Mentioned: 0 Post(s)
Tagged: 0 Thread(s)
Quoted: 0 Post(s)
Solid rear axle with 4.11 gears and 12" DOT slicks.
Nice setup and great numbers! The hp numbers sound a bit high though from what I've seen posted up by other Maggie users at those pressure. Stock heads and cam?
I'm only joking about the solid axle, though there is a few running around with that mod. Out of my league and experience, but I know the rule thats spouted around here is that at your hp numbers you need a one piece drive shaft ($800), and different stub axles ($800 also I believe). Again, nice setup and times for all season tires! low 12's on all seasons in a rear drive car... talk about potential!
Join Date: Feb 2007
Location: San Jose area, CA
Posts: 377
Mentioned: 0 Post(s)
Tagged: 0 Thread(s)
Quoted: 0 Post(s)
Street tires and a cool or poorly prepped track - really nothing you can do. Outstanding car and power though. Must be nice!
---
'07 Audi A4 2.0T Quattro "commuter"
'09 G37 Coupe Journey
'11 HD Street Glide 103
"The Andy Rooney of Cars"
Examiner.com
"My automotive consultant." - Wayland Joe, 2-time SCCA Runoff Champion, exotic car owner
Nice trap speed. Cars making alot of power. I thought I was the only one using a second gear launch for the street meats.
Currently Active Users Viewing This Thread: 1

(0 members and 1 guests)