Hey Im New To The Gto Family
---
umm im currently in fort bragg north carolina my name is mike i drove the yellow srt-4, but the motor blew on me so i bought a red gto 04 from carmax its on is way to me as we speak, i know of a few gto owners in fayetteville but have not taken the time to get to know them. umm i currently into heavy modding my neon had roughly around 342 hp an 382 tq so like i said my cell number ill give out when or if u pm me.

the current mods im looking into rite now are.
slp loud mouth
kn intake
hr lowering springs
an traction bars

but plz dont hesate to correct me on my mods again then this is my first v8 car.

so thnx guys hope to hear from alot of you.
Join Date: Nov 2007
Location: Chicago,Il
Posts: 1,303
Mentioned: 0 Post(s)
Tagged: 0 Thread(s)
Quoted: 0 Post(s)
Welcome to the forum, Mike. Enjoy the goat.
Welcome to the herd, yep that sounds like a good mod list to start with! I'd add some tires to that list.
---
-LSS Shifter
-Resonator Delete
-Flowmaster 44 Series Mufflers

1 of 475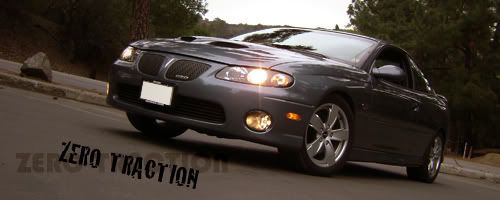 Join Date: Feb 2008
Location: Chicago
Posts: 380
Mentioned: 0 Post(s)
Tagged: 0 Thread(s)
Quoted: 0 Post(s)
Welcome to the heard
i recommend you look into getting a shift kit, trans cooler, and torque converter (if you have an automatic) if you're going to give it a lot of power. A new clutch and pressure plate plus shifter (if you have a manual)
Join Date: Nov 2007
Location: BREWSTER, NY
Posts: 1,448
Mentioned: 0 Post(s)
Tagged: 0 Thread(s)
Quoted: 0 Post(s)
Welcome-you'll love the GTO
Currently Active Users Viewing This Thread: 1

(0 members and 1 guests)