Join Date: Dec 2005
Location: Oregon
Posts: 2
Mentioned: 0 Post(s)
Tagged: 0 Thread(s)
Quoted: 0 Post(s)
New GTO Owner in Portland Oregon
---
Just picked up my '06 Blue / Black GTO last night and I can't believe I waited this long for one. Glad to see there is a semi active forum here for discussion of these great automobiles!
Happy Holidays all!!
Join Date: Dec 2005
Location: Orlando
Posts: 182
Mentioned: 0 Post(s)
Tagged: 0 Thread(s)
Quoted: 0 Post(s)
Welcome D-GTO. Awesome color choice. I picked up my 05, same color, a week ago. The guys on this board are great and very helpful with any questions you may have.
hello and welcome!
---
I'll be up your way for some work related training in a couple of weeks, ( 2-1/2 days of Industrial Ammonia Operator Certification classes.)
My wife and kids aren't coming, so that leaves me free time.
Maybe we could do a GTG one evening, and check out each other's cars.
I went to PIR several times this last summer to drag race. I hate the traffic up there!, but it was worth it.
You can check out my GTO Pix. if you like.
Happy motoring!,
Maximental
---
Welcome to the family Bro!!!
Congrats on the GOAT!!!
---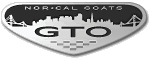 Nor-Cal GOATS
05
IBM/Blue M-12
04
Olympic White Yukon Denali
Advanced Dyno
www.advanceddyno.com
Tuned the First 2 West Coast M6 GOATs in the 10s
Currently Active Users Viewing This Thread: 1

(0 members and 1 guests)