View Poll Results

: What would be or is your favorite kill?

Mustang
32
42.11%
Charger
9
11.84%
Corvette
19
25.00%
Ricer
16
21.05%
Voters: 76. You may not vote on this poll
Quote:
9 out of 10 times, I won't even waste my time on a Mustang GT or Mach 1 or any other given Stang.....but my favorite kill ever, was this guy and his homeboy in a 03-04 Terminator did a ricer fly-by on the freeway and as they were passing, the passenger held a thumbs-down out the window.
So I caught up with him, paced him for a second or two...long enough for him to get that surprised-I'm-an-a$$hole look on his face....then once he took the bait, we ran neck and neck until around 120-125mph, at which point I proceeded to stomp him a new mudhole....laughing at them out my window the whole time!
Cobras are fast, don't get me wrong, but they lack what it takes past 120mph....no top end.
That's where my powerband is the sickest.
I put about 10 buslengths on him by the end of the run, and neither one of them would look at me when traffic slowed up ahead.
So I gave then the thumbs down, and got off on my exit.
Bitches.
Kick-ass story. MkIV Supras are bad-f#cking-ass.....
Join Date: Dec 2007
Location: NJ
Posts: 32
Mentioned: 0 Post(s)
Tagged: 0 Thread(s)
Quoted: 0 Post(s)
I would have to say Mustangs and Dodge Hemi's
Well I don't own a GTO, but I suppose if I did, I'd most enjoy beating /humiliating Mustangs.
Seems to be a rivalry of sorts between goats and ponies.
---
2006 Pontiac GTO M6
Join Date: Mar 2007
Location: Tennessee
Posts: 60
Mentioned: 0 Post(s)
Tagged: 0 Thread(s)
Quoted: 0 Post(s)
I love killing a mustang and then stomping on there pride. They piss me off. I get tired of seeing them EVERYWHERE. Anyway, the chargers haven't bothered me yet. Just those damn cocky mustang drivers. But after the beast gets ahold of them I look at them and laugh.
---
"If you dont want to go fast, get the hell out of my car"

2006 M6 Spice Red Goat, Resonator delete with Single chambers, Volant CAI, Red and cool white LEDs in the interior, Banshee guage pod with VAC and Volt meter guages.
formerly NJGoat
Join Date: Nov 2007
Location: South Jersey
Posts: 1,844
Mentioned: 0 Post(s)
Tagged: 0 Thread(s)
Quoted: 1 Post(s)
Mr. Cobra
---
Here is the pole. Yea, your mustangs are tied right now, I picked a charger to be my favorite kill. Enjoy reading.
---
2009 Pontiac G8 GT Liquid Red, sport & premium pkg, Lloyd floor mats, Pontiac trunk liner, mobil 1 plus Z-Max, VG sharkfin antenna, Volant CAI, Superchips Cortex 93 octane Volant tune, Solo -Performance axle-back exhaust, Solo X pipe, BP-catchcan
Join Date: Jun 2007
Location: Nor-Cal
Posts: 9
Mentioned: 0 Post(s)
Tagged: 0 Thread(s)
Quoted: 0 Post(s)
It's fun to mess with Mustangs but I love to stomp on ricers! PIL SUNG! (Certin Victory!)
Join Date: Oct 2007
Location: CT
Posts: 1,234
Mentioned: 0 Post(s)
Tagged: 0 Thread(s)
Quoted: 0 Post(s)
Quote:
What vehicle would be or is your favorite kill? Mine ofcourse would be a charger. Those guys just seem too cocky sittin' behind their hemis. They do however need it to be big enough, so they can hide behind it when they hear a goat coming!!!
My favorite kill would be OSAMA BINLADEN
---
447 CI forged stroker [ 7.3 liter ] 6 Bolt main caps
Holley Modular Mid rise Intake Manifold.
F1 Procharger ,

Just way too much to list,
Quote:
Killing the Corvette is best. It's simply the best car on that list not to mention the fastest stock.
I agree and that is why I voted for the Corvette.
---
* 2006 GTO * Spice Red/Black/M6/18s * Magnaflow/K&N Drop-In *
mustangs becaue they think the are untouchable and ricers cause they make me ill
Defenitely corvette. Beat a C5 with an exhaust on a 30 mph roll!
---
-LSS Shifter
-Resonator Delete
-Flowmaster 44 Series Mufflers

1 of 475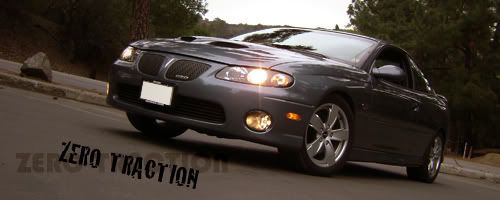 Currently Active Users Viewing This Thread: 1

(0 members and 1 guests)