Join Date: Apr 2005
Location: Eustis Fl.
Posts: 3,445
Mentioned: 0 Post(s)
Tagged: 0 Thread(s)
Quoted: 0 Post(s)
Haha - that was too good.
I have the best story ever, but of all days not to have my video phone charged - grrr.
Traffic was horrible this day and the two lanes were bumper to bumper. The woman in front of me starts move up - back - and up; she was working her way into the middle of the road to see what was holding everything up. She gave up and just got out of her car to look. Well - she left the door open and the car in reverse.
Slowly, the car starts moving towards a guy in the other lane – heading right for his door. Being the nice guy I am, I give a quick honk to warn the woman and guy. Well, the woman runs over and grabs the car's door - trying to stop the car I guess. When she did, the car drug her down to the ground like a rag doll, her skirt was drug up over her head, and her stockings turned to shreds on the tar.
Now, I look at the guy about to be hit. He's moving the gear selector so fast his hands are just blurs – drive, reverse, drive, reverse. Still – he just could not work his way out. Finally, this empty look of surrender comes over his face and he just watches the car coming for him. A second later and BAM, the car's stopped, the woman is working her way to her feet, and the guy is just sitting there like he's suffering from traumatic stress syndrome..
Need I say, I never laughed so hard in my life.
Super Moderator
Join Date: May 2005
Location: Lancaster, PA
Posts: 8,433
Mentioned: 0 Post(s)
Tagged: 0 Thread(s)
Quoted: 19 Post(s)
That's a shame........
---
President: GTO Association of America
www.gtoaa.org
Was that NJgoat on the job? Priceless clip for sure…
Join Date: Mar 2005
Posts: 1,196
Mentioned: 0 Post(s)
Tagged: 0 Thread(s)
Quoted: 0 Post(s)
That guy had better find a new vocation. That clip will be making the "best of" video at his retirement party.
formerly NJGoat
Join Date: Nov 2007
Location: South Jersey
Posts: 1,844
Mentioned: 0 Post(s)
Tagged: 0 Thread(s)
Quoted: 1 Post(s)
Knock On Wood, Nothing Like That Has Happened To Me Personally Yet. We Had A New Guy Two Years Ago Jump Out On A Kid Riding A Bike Who Had Warrants...didnt Put Cruiser In Park And Car Coasted Into A Gas Main On A Large Building......no Good!!!!!! Lucky No One Was Injured......
---
2009 Pontiac G8 GT Liquid Red, sport & premium pkg, Lloyd floor mats, Pontiac trunk liner, mobil 1 plus Z-Max, VG sharkfin antenna, Volant CAI, Superchips Cortex 93 octane Volant tune, Solo -Performance axle-back exhaust, Solo X pipe, BP-catchcan
hahaha
---
-LSS Shifter
-Resonator Delete
-Flowmaster 44 Series Mufflers

1 of 475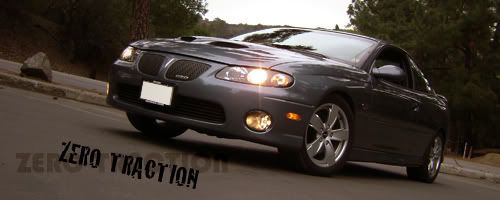 Currently Active Users Viewing This Thread: 1

(0 members and 1 guests)