Join Date: Mar 2011
Location: Long Island, NY
Posts: 5
Mentioned: 0 Post(s)
Tagged: 0 Thread(s)
Quoted: 0 Post(s)
Advice:Restoring Tempest Custom Conv.
---
I am new here and just picked up a 67 Tempest Custom Convertible. I have some questions and anyone can chime in with any advise as well.

It is a rough condition rolling chassis. So there will be no Barrett Jackson Auctions for this car. I am debating as to whether I want to rebuild it as a GTO Clone or whether I should keep it as a Tempest.

It's missing the hood, grille, bumpers and engine/transmission assemblies. The rear lights are also missing and the light panel as well as the trunk ring that holds the weatherstrip is also rusted, but other than that, the car body is reasonably straight. Oh, its also missing the windshield and the armrests and the top is SHOT!!!

I had dreams of putting the 400, stroked with a 455 cranks and adding the ram air kit and GTO dressing with a working hood scoop and tach. I was also thinking about a M-22 reworked with overdrive gear ratio's to a 12 bolt rear end.

I was looking at the car production numbers and they didn't seem to make many Custom Convertibles and I didn't want to be a complete idiot and change it over to a GTO if it will have a higher value as a Tempest.

Any Idea's as well as any sourses for parts that I am missing or needing?

Thanks,
Allen
Join Date: Sep 2010
Location: Near Detroit
Posts: 3,931
Mentioned: 0 Post(s)
Tagged: 0 Thread(s)
Quoted: 23 Post(s)
Welcome to the Herd Jelski, get some pics up so we can see what it looks like and i am sure you will get a detailed description of what you will need to buy and do. As for value a clone won't necessarily bring more than a nicely restored Tempest Custom as it still does not carry the 242 vin as a gto so it will always be a bastard child. I say keep it a Tempest, seems that most of the new members lately are Tempest/lemans guys (which i love), we are saving a breed that has been decimated as parts cars and clones. When was the last time you saw a sweet Tempest Custom at a show with the full length stainless beltline trim. Be unique, It will cost about the same either way as all the parts are the same and with the Tempest as opposed to a true GTO you have a little more freedom for mods as you will not be decreasing the value of a numbers GTO....
heres mine
1966 Tempest pictures by instg8ter - Photobucket
and heres another members vert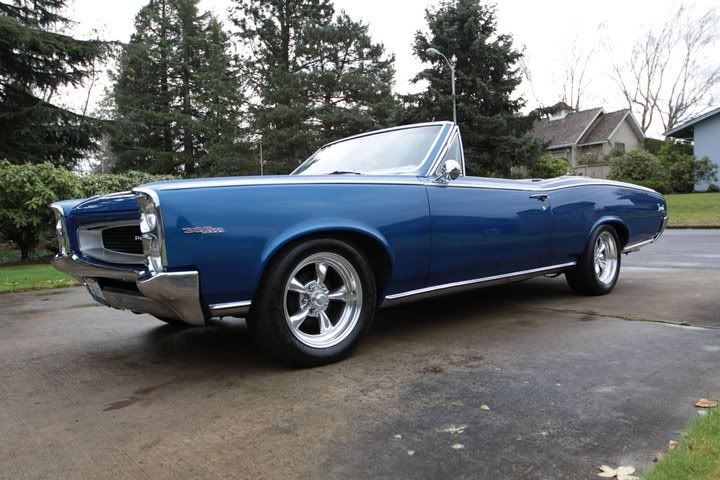 Brian
Join Date: Nov 2008
Location: Niceville, FL
Posts: 3,376
Mentioned: 0 Post(s)
Tagged: 0 Thread(s)
Quoted: 0 Post(s)
It's a cool tempest, you can do what you want with it. There is just as much money in a decent restomod than a stock car. The body lines are the best ever, so it will look good whichever way you go. Also, you have to replace the tail panel to make it a GTO, and the lenses are $125 ea, and you won't get that back with a cloan. At my last swap meet I saw a couple cloans with the wrong taillights, and that really degrades the car IMO.
As for the 455 crank, most are stroking the 2 bolt 400 as it has a smaller-stronger crank journal and building 461's. The bottom end kit is about $1500 but makes great numbers.
Again, welcome!~
Join Date: Mar 2011
Location: Long Island, NY
Posts: 5
Mentioned: 0 Post(s)
Tagged: 0 Thread(s)
Quoted: 0 Post(s)
Thanks
---
Thanks for the advice. I've been thinking about it and I think I am going more towards just restoring an old hotrod rather than trying to make this one look mint. It doesn't have the factory power plant in it. So I'm thinking that it will never be worth a ton.

My light panel is one of the few rusted parts on the car. It has small rust holes in the trunk floor and on the rear light panel. Everything else, including the main floor boards are not too bad.

I'll try and get some photo's up tomorrow.

Thanks,
Allen
Currently Active Users Viewing This Thread: 1

(0 members and 1 guests)