My 66 GTO resurrection
---
Alright so I decided I would start a thread and show the progress on my 66 GTO. I have asked questions here and there and really appreciate all the help I have received. I picked this car up 2 years ago for my 21st birthday. The car has sat in my dads shop the past 2 years with very little work being done to it. Since my college athletic career has ended I have been able to put a lot of time into this project. I started this christmas break with no experience and a brand new mig welder
I will do the entire car myself including paint. I will post up pics of what I have done and continue to update my progress.
I know some may look down on the way I am restoring this car but I am on a very limited budget and am doing this almost entirely by myself, with a little help from my dad. I started with zero experience an of course suggestions are always welcomed.
---
Last edited by Logchain; 02-12-2012 at

09:33 PM

.
Well after looking the car over good I realize I am in way over my head. I have a lot of hours into this car and I can honestly say it should have been a donor car. Just about everything needs to be worked on.
So we decided to do a redneck frame off and me and my pops pulled the body off and suspended the car with 4 sawhorses and a couple 4x4's I then set about fixing both front floor pans.
Join Date: Jul 2011
Location: Tulsa, Ok
Posts: 574
Mentioned: 0 Post(s)
Tagged: 0 Thread(s)
Quoted: 1 Post(s)
Looks like it's coming along nicely.
---
1966 Pontiac Lemans Convertible
389 tri power
I won't bore everyone with a step by step of what I have done and will bring the restoration up to speed from when I started in december. I have welded in the floor pans and have just recently painted the inside of the car including cleaning out everythign under the dash and painting it as well. I have also painted most of the frame (sandblaster broke and am waiting to finish up the a-arms and crossmember). Like how I have it hoisted up lol, like a said this is a low budget restoration. I have repaired the front window section where the corners have rusted out. This past weekend I replaced the rear deck filler and am currently working on patching around the rear windshield area.
Join Date: Sep 2010
Location: Near Detroit
Posts: 3,930
Mentioned: 0 Post(s)
Tagged: 0 Thread(s)
Quoted: 23 Post(s)
looks like your doing a fine job....nothing wrong with doing things on a budget, these cars are for driving get it on the road and have fun. My Tempest was a budget build, luckily i had no welding but i did it all myself including paint in a 8 month span....and i had'nt wrenched on cars in 20 years when i started....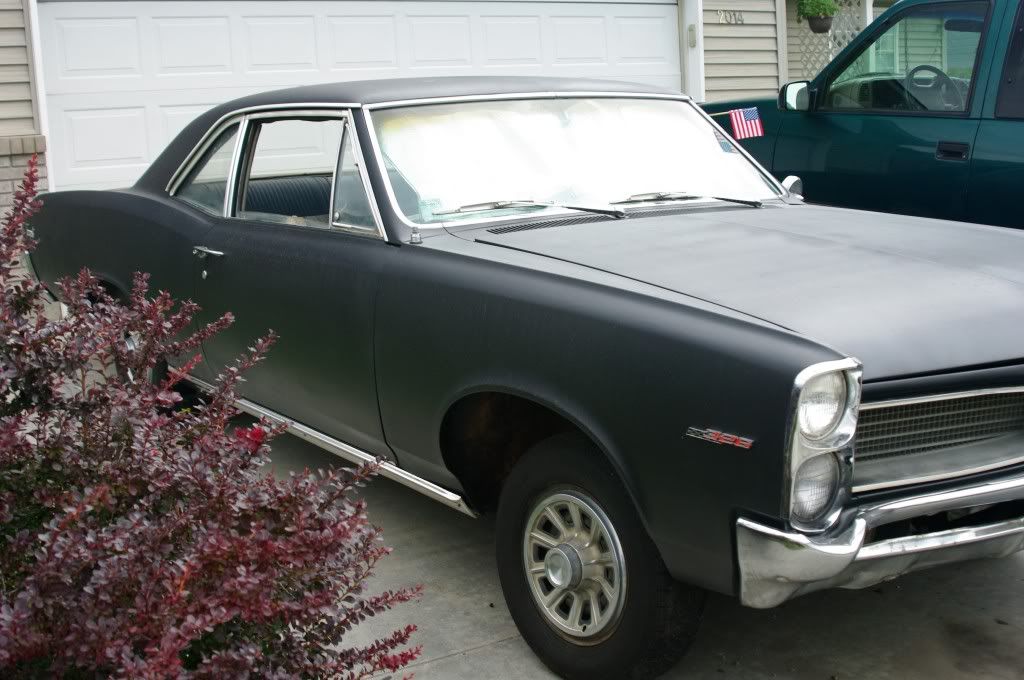 ---
Super Moderator
Join Date: Aug 2008
Location: Springtown, TX
Posts: 5,737
Mentioned: 0 Post(s)
Tagged: 0 Thread(s)
Quoted: 122 Post(s)
Hey Logchain,
No one here's going to make fun of you. Hats off to you for jumping in and taking this on yourself. You're going to learn a lot and you'll have something to be proud of when you get done. Even guys like Chip Foose and George Barris had a "first car" somewhere along the line, they weren't born knowing how to do this stuff.

Bear
---
BearGFR
Springtown, TEXAS
64-67 Expert
Join Date: Feb 2008
Location: Fresno, California
Posts: 8,478
Mentioned: 0 Post(s)
Tagged: 0 Thread(s)
Quoted: 99 Post(s)
Logchain, most of us got into this car thing when we were young. You're doing great, in my opinion. You're learning valuable skills, being constructive, and you'll have a killer rend-product. If you want to see ROUGH, pull up some of Too Many Projects' posts on the '67 he's doing. Your car is a cherry compared to what he began with. Nobody is here to put you down....we all want to see you succeed, and we're all here to help. Another '66 GTO on the road sounds pretty good to me!!
Jeff
Appreciate all the support guys. Car has come a long ways but still got a long ways to go. Still need to do the entire trunk as well as both quarter panels. Both wheelhouses are in rough shape and one will need to be replaced due to a collision to the quarter panel that has nearly an inch of bondo on it. I didn't know they could build it up that high lol. Im going to attempt to do the quarters on my own, has anyone done them before and how hard is it? Also I get the motor back this week
Just A quick update. Got my transmission back today, had it totaly rebuilt. Have a total of 520 in it so came out pretty good. The machine shop also called me and told me my motor is ready to be picked up
Gonna swoop it up Thursday. Things are startin to come together.
Join Date: Feb 2012
Location: MA
Posts: 25
Mentioned: 0 Post(s)
Tagged: 0 Thread(s)
Quoted: 0 Post(s)
Hey Logchain,
Exactly what the other guys said. We're all crazy enough to restore these cars,
so we all help each other out.
Lots of experience and knowledge here. I'm glad you are part of the gang,
and the car is coming along great!
Currently Active Users Viewing This Thread: 1

(0 members and 1 guests)
Similar Threads
Thread
Thread Starter
Forum
Replies
Last Post
1966 GTO Sport Coupe Resurrection

RustWrangler

1964-1974 Tempest, LeMans & GTO Projects, Barn Finds & Restoration Discussions

16

12-16-2011

10:39 PM