Discussion Starter
•
#1
•
Thought i would start a thread with some tips for restoring on a budget as we all know how quickly these cars of ours can drain a bank account. Truth of the matter is if you have a pile of cash and order everything you need so you have it when you need it you will have spent more than its worth in this economy (even doing it all yourself).
I am not leaning towards correctness as much as presentable "on a budget". The way i look at it the goal is to get the car on the road running good and looking clean, then while driving and enjoying it you can get all the new little goodies in time with less of a strain on your budget and marriage. And what can be More Correct than saving as many original "Born With" parts as you can. The Purist will probably scoff at this but not all of us have a spare 30K or more laying around to build a 100 point car. My goal all along with this build was not a clone a GTO but build a car that embodied the Pontiac Spirit and i do have every factory trim part that the car cam with restored and stored also.
First tip: I highlighted the Ames book and gave it to the wife and daughters so they can pick a piece i want in their budget and get me usable gifts for x-mas and b-day
Ok have been wanting a wood wheel since i started the resto, scoured e-bay and Craigslist, but i am sorry, i am not paying $400.00 for a wood look wheel and even shy away from the real wood Aftermarkets (on above list but the wife would not pay $200...lol) so here is what i did...
factory fresh...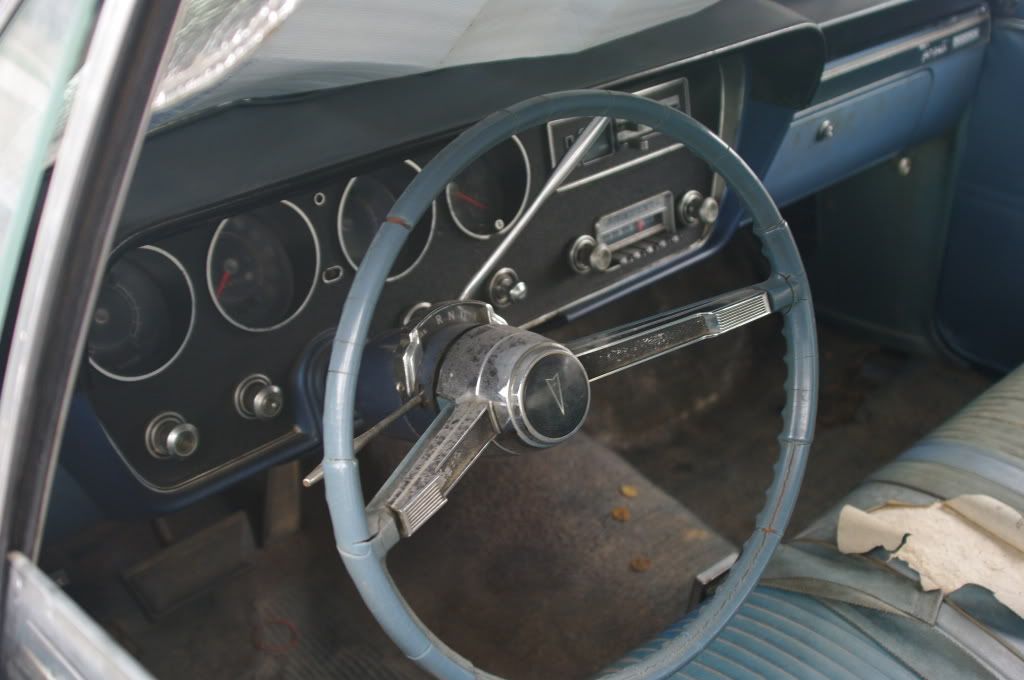 First job is to clean it up, simple green works well, then attack the chrome with 0000 steel wool get all the loose paint from the textured recess of the horn bar...with the horn bar off i masked and sprayed the column as i was painting the wheel and metal dash to match the exterior of the car (i know, not always correct but it looks good).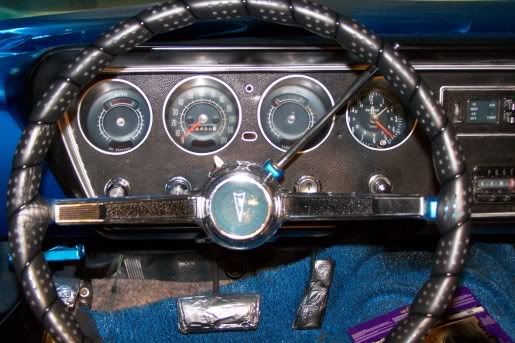 also cleaned up the dash with the wheel off and painted the bezels with a brush, since i was doing the wood insert did not need to be perfect on the outer edges. the horn buttun was removed and mouted on a flat surfaces so i could wet sand the scratches out of the acrylic and polish it. I also masked and sprayed the horn bar 60% black in the reliefs, install the wood insert before you put the wheel back on...it's much easier to trim and fit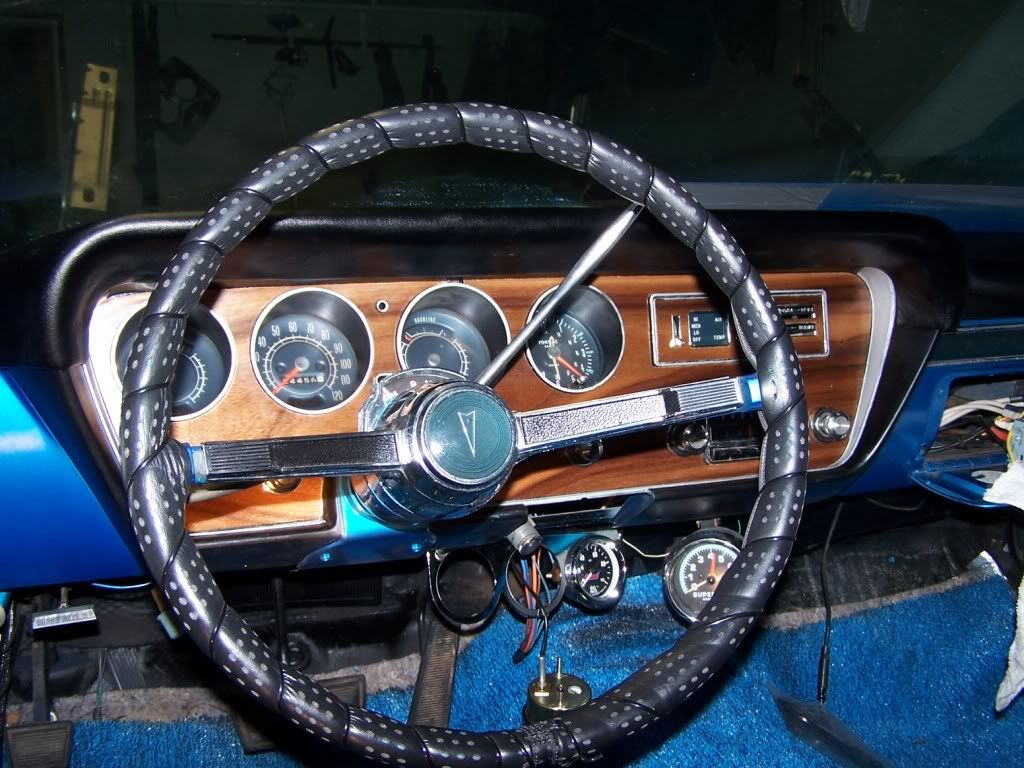 My wheel had cracks in the usual places and thought about refinishing but that was a lot of work to get a wheel that felt hard and awkward in my big hands so i decided it would get covered in leather...the vinyl was just while restoring as it made it easier to crank the wheel when pushing it around. I found a place on E-bay that had leather wraps with a thin foam backer in all diameters and ordered for 20.00 i think. you want it on the small side so you have to stretch it tight over. The first thing you do when you open the package is throw away the dull needle and thread as all you can do is hurt yourself with it. My solution, when the leather is on and trimmed nicely with an x-acto around yoru horn bar make sure the seam where ther is overlap is facing the front of the car (back of the wheel) take a hotglue gun with permanant glue an work a thin bead around the inner layer, then whipe the leather where it will overlap only with acetone to get the oils off and lap over tight and seal the edge of nice and clean....no stitching needed and it will not move a bit on the wheel even if you twist it.
so for a little bit of elbow grease a can or two of spray paint the Standard Wheel can look good and feel better in hand for 20 bucks...thats $380.00 more you can put in yoru engine....
arty: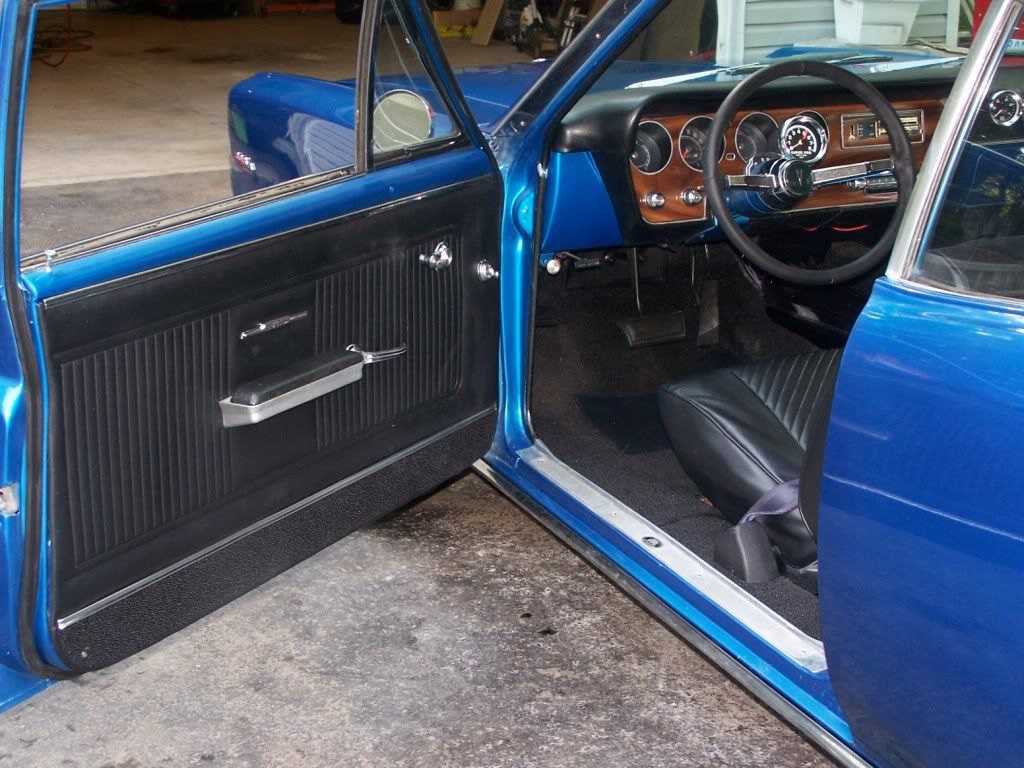 Feel free to add tips guys....i am just killing some down time and thought i would throw this out there....:seeya