Overview
This thread has been established to help GTO owners obtain maximum performance from their GTO's braking system. It applies to the front brakes of all models of Monaro-based GTOs from Holden. The thread will cover the following topics.
1. General Tips
2. Brake Fluid
3. Brake Pads - Front
4. Rotors - Front
5. OEM Front Brake System Upgrades for the 2004
(Original Equipment Manufacturer)
Cost-effective brake performance has been a recent focus for me. This thread is a collection of knowledge from other GTO owners and from my experience upgrading my brake system. I've tried to provide recognition where I have included pictures or words from others.
There is a companion thread on rear brake enhancements at
http://www.gtoforum.com/f39/rear-brake-enhancements-upgrades-gto-holden-4764/#post40897
General Tips
Safety first!! Both in the driveway and on the road! Always block wheels, use jack stand to support a raised vehicle, and common sense. If you don't feel comfortable performing these maintenance actions, don't hesitate to take your project to a qualified mechanic. On the road, the GTO is a powerful, heavy, beast with the muscle to propel you deep into triple-digit territory. Stopping from high speed is hard on brakes. When you are traveling at 120 mph, your brake system has to dissipate four times the amount of energy compared to 60 mph. Make sure your equipment is up to the task. My experience has been the 2004 OEM front brakes are inadequate for the capabilities of the GTO.
When you are working on brakes, you almost always are removing and replacing your wheels. Because the wheels are made of aluminum and the hubs of steel, a natural corrosion process occurs between the dissimilar metals. It can easily build up on the studs and hub and make it difficult to remove your wheels. Also, rusting occurs between the brake rotor and the hub and can make it difficult to remove the rotor (I had one that was a bear). So next time you remove your wheels and or rotors, clean them, and consider applying a protective, anti-corrosion film. You can clean your hubs and the inside of your wheels with a wire brush and spraying them off with brake clean, or use some rust removing gel on the steel components and rinse the rust away after letting it set for 5 to 10 minutes. Once clean, you can use a fairly new product from Gunk called Squeal Medic to provide corrosion protection. It comes in a spray can and looks like aluminum paint. Spray the hub and studs, install the rotor and then spray the wheel mounting surface of the rotor. You don't have to worry about the spray getting on the machined surface because that is what it was originally intended for. It doesn't dry, however, so I mask or shield as much as I can to prevent over-spray that could result in getting it on your hands or clothes if you come in contact with it while working on these components. The spray also helps lubricate your studs making it easier and smoother to torque your lug nuts. Squeal Medic is a tip from Silvergoat. With as much rust and corrosion as I had on my GTO after a year, I wanted to try this.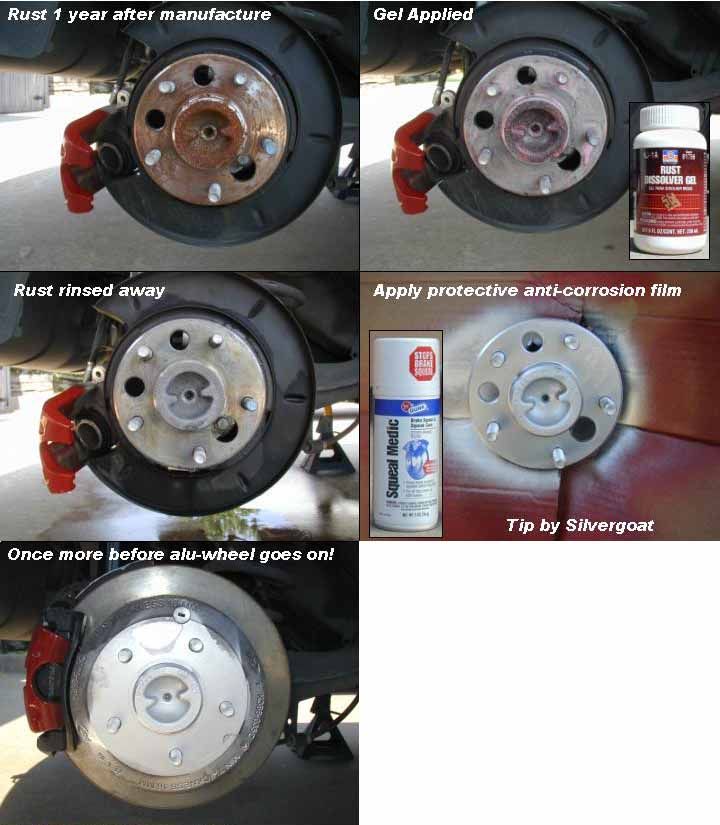 When remounting your wheels, tighten the lug nuts in a star pattern. Get them all snug first, then tighten to spec. A torque wrench is highly recommended. Some owners will increment in three steps, e.g., 60, 80, and then 100 lbs ft. If you are not using Squeal Medic, try a small amount of lithium grease on your lugs to help them torque smoother and more consistently. Plus your lug nuts will be easier to remove the next time you need to take off your wheel. Equal and consistent torque is important and helps the rotor stay true, especially when going through heat cycles.