Discussion Starter
·
#1
·
I'm new here... Love the forum!
I previously saw the thread where the GTO was pulling a little guy camper, so I just thought some may want to see the GTO pull other things too... I was even able to tack on a bike rack too.
The story is... I wanted to get better gas mileage than my Suburban for a few small trips. I decided to run a vacuum gauge to make sure I was not stressing the engine and also to let me know when I need to downshift
(You can see the red tube going into the cockpit in the final picture). I get a solid 20 MPG with the A/C on all the way. (Way better than my 10MPG with the truck
Just got back from a 650 mile trip, worked great! I took it to my dealership (location for pics) just for kicks and giggles, the result, open mouths... :cool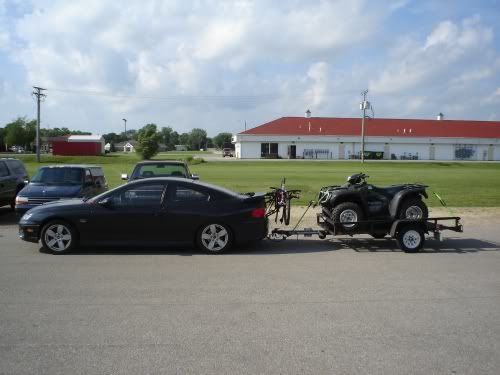 Also pull an 8ft popup camper nicely. A GTO at work may seem wrong to some, but actually seeing one pull a trailer puts the competitors to rest... Let's see a ricer pull that off... :cool
If you are interested in towing, let me know, I'll help you out.
Thanks,
Dan
2005 GTO - 6M